Fall isn't something we're known for in Southern California. After all, there's a reason why they refer to it as endless summer. So while fall officially starts this week and the media, fashion, and family elsewhere are breaking out their autumn best, we're still sporting sandals and wondering if this is a beach weekend. Neither the weather nor the landscape has changed much. Is the Starbucks Pumpkin Spice Latte and Autumn Squash soup at Panera really all that we have to work with?
Well get your sweaters out and ready your home for autumn leaves, because we're gonna go through some ways to find that fall feeling despite the pleasant temperatures and unceasing clear skies.
Find The Autumn Chill Outside
One of the greatest feelings when the season changes from summer to fall is to bundle up when it's crisp and cool outside. So how do we simulate that feeling and get into the spirit of autumn? There are two things are pretty easy to do.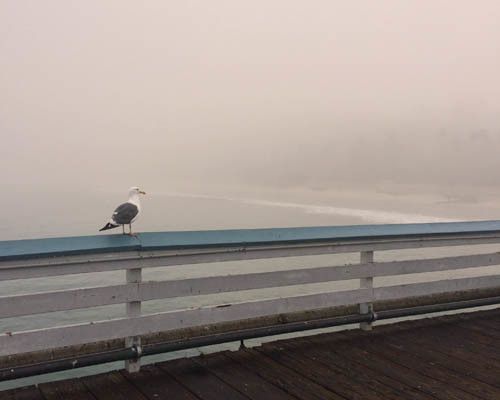 Get up early. Yes, we said it, get up early. Coastal California, especially along Long Beach, Palos Verdes, and southwards into Orange County sometimes experience a marine layer that can bring fog, misty air, and cool temperatures early in the morning. When the light is still low and the air cold and damp, there's nothing greater than throwing on a sweater, getting a hot cup of coffee, and taking a walk down by the shore.  Bluff Park and Seal Beach both make great places to take a stroll, and a little farther south, Laguna Beach and San Clemente both have cozy small town feeling.
For late risers, open your windows in the evening and leave them open. Once the sun is down, our climate can turn cold quickly on a mild day, bringing in a chill from the sea. While it may not bring an immediate East Coast autumn feeling, it will substantially freshen the air in your home and allow you to wake up to warm blankets and cold air on your face. It's a perfect opportunity to make yourself some tea and take in the morning from your porch while the sun is still low on the horizon. While neither of these suggestions really require it to be fall, they go a long way to simulate the feeling.
Go Farther Afield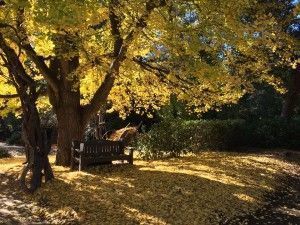 While some streets may have enough deciduous trees in our area to turn some leaves orange and red, going farther afield may provide you with even more. Try a hike in the Angeles National Forest or through the canyons in the Santa Monica mountains as well. To the south, Laguna Canyon's Willow Canyon Trail offers views of the ocean and fall leaves.
Just a bit inland, Descanso Gardens is a nice place to take a stroll and enjoy a view of what many of us picture autumn looking like: golden trees with leaves falling to the ground.
If you want a really cool day trip, head south to Palomar Mountain where the variety of trees and damp weather will put you squarely in the mood for a pastry and a good warm cup of cocoa.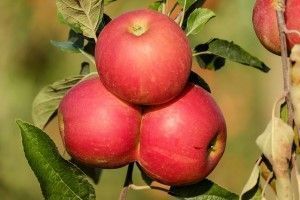 A trip to Julian is another option. A historic mining town about an hour east of San Diego, Julian is a quaint mountain retreat with four distinct seasons. During the autumn Julian is known for its apple harvest and fall colors, drawing visitors who stroll the historic streets, stay overnight in the myriad B&Bs, and enjoy apple pie and apple cider. Although the entire fall is a great time to visit, the town's Apple Days Festival takes place this weekend, September 24th & 25th. It features games, music, dancing, a beer and wine garden, gold panning demonstrations — and of course apples.
Decorate Like You Mean Business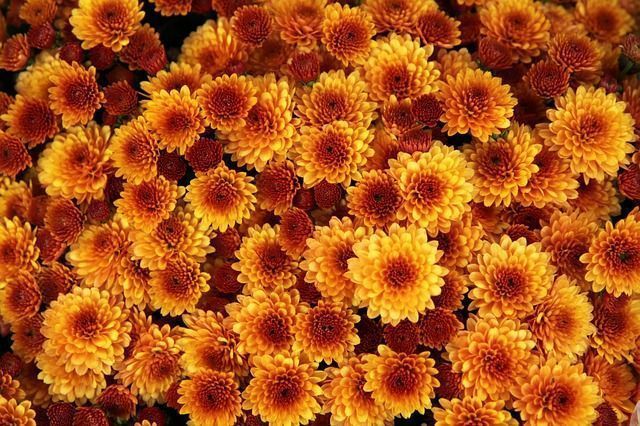 Obligatory pumpkins and leaves are cropping up in every store, and while last weekend brought high temperatures to would-be football watchers in Los Angeles, this doesn't mean you have to abandon the idea of fall foliage and harvests.
Your garden and porch can help. Chrysanthemums come in rust reds, yellows, oranges, and maroons, and are perfectly happy to live in pots to the side of a door or on a porch step. They like the warm weather, have long-lasting blooms, and give you that little punch of color you wanted. Also, try growing some late season veggies for an excuse to be outside early and for the benefits of harvesting in the fall. Root vegetables, broccoli, and other upcoming Thanksgiving appropriate foods are good options.  More home-grown brussels sprouts with your side of dressing? Of course.
Bring some of that autumn goodness inside with you. A wreath, some spicy candles, or even just a few yellow leaves from a liquidambar or cottonwood tree can bring some color and sense of place. Consider baking pumpkin bread or ginger cookies to bring the smell of fall into your home.
Check Out Regional Events
Even if it doesn't feel fall the same way as the rest of the country, Southern California is loaded with things traditionally associated with fall as well as a few regional things you can't find anywhere else. We also have one of the best ranges of restaurants and entertainment options in the country, so you might as well take advantage and have fun with it!
Underwood Family Farms in Moorpark, CA has been famous for many years for their pumpkin harvests and corn maze, as well as their annual fall festival which has food and entertainment for all age groups. In Long Beach, cottonwood trees can be seen at Rancho Los Alamitos, which is even named for them. They will again be hosting the Fall Children's Harvest Festival next month, with free admission to the public.
Beginning September 30th, Pa's Pumpkin Patch in Long Beach offers not only pumpkins, but also haystacks, corn stalks and gourds, along with pony rides, a petting zoo, games and kiddie rides.
There's a fall food opportunity around every corner. Many local restaurants and bars offer seasonal events, like region-specific wine tasting and holiday menus. Annual favorite Oktoberfest has a strong presence across the region, with perennial favorites like Old World Village in Huntington Beach, Alpine Village in Torrance, or one-day pop-ups like the Shoreline Aquatic Park Oktoberfest. If beer alone is not your favorite, East Village's newcomer Great Society serves up ciders and meads that celebrate the spirit of fall with a variety of flavors.
Enjoy The Idea
Don't get too hung up about the weather and the fact many of our leaves remain green: you live in one of the best places in the country and it's just doing what it has always done. Many of the best parts of  fall as a season are social, and you're surrounded by people who enjoy the idea of fall just as much as you.
So get out there, put on that sweater, and find whatever pumpkin spice thing you want. Southern Californians have all the opportunities they want to enjoy autumn, just without the clouds.