You know that moment when you're watching a movie or TV show and you realize that what's supposed to be Miami or San Diego or someplace entirely different is actually right down the street from you in Long Beach. The fact is it happens quite a lot because Long Beach's close proximity to Los Angeles and the entertainment industry has led it to be home to a few of Hollywood's most iconic backdrops. From Virgina Country Club, to Zaferia, to Downtown and our beach, our fair city has been featured in many TV shows and films.
Ferris Bueller's Day Off – 4160 Country Club Drive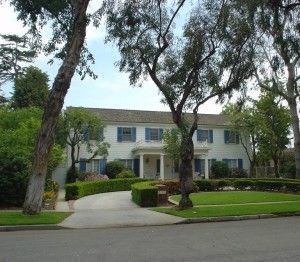 A classic from the 80s, Ferris Bueller's Day Off is a tale of teenagers playing hooky and having a lot of misadventures doing so. The iconic character Ferris allegedly spends his time in Chicago, but his film home is actually in the Rancho Los Cerritos neighborhood of Long Beach. This colonial style home is one of a rare few for the Southern California market. The homeowners at the time were in the home for the entire filming period, and remember the experience fondly:
The Balkmans, of 4160 Country Club Drive in Long Beach, Calif., continued living in the home alongside the entire cast and crew of "Ferris Bueller's Day Off."
"It was a lot of fun," Matthew Balkman, whose parents, Jim and Sonya, owned the iconic circled-driveway home, told GoodMorningAmerica.com. "My mom liked parties, so this was just big party for her."
Balkman, now 53 and living in Seattle, says it took only 10 days to shoot the entire film's scenes at his house, but the experience, although short, left lasting memories.
American Pie – 4153 Cedar Drive
Down the street from Ferris Bueller is another iconic Colonial-style home at 4153 Cedar Drive, home to the protagonist Jim from American Pie. Surprisingly, almost all of American Pie was filmed in Southern California, despite professing to be based in Michigan. Including Millikan High School and other Long Beach Unified School District properties, most of the high school and neighborhood shots are within a few miles of each other.
While these are two of the most memorable properties, Los Cerritos and Virginia Country Club neighborhoods also include filming locations for indie-favorite Donnie Darko, the Silence of the Lambs prequel Red Dragon, and Not A Teen Movie. With its surprisingly East Coast style home in abundance, this is a one-of-a-kind area for Long Beach. This continues to attract buyers and filmmakers alike with the illusion of an entirely different part of the United States.

Dexter – 2431 Chatwin Avenue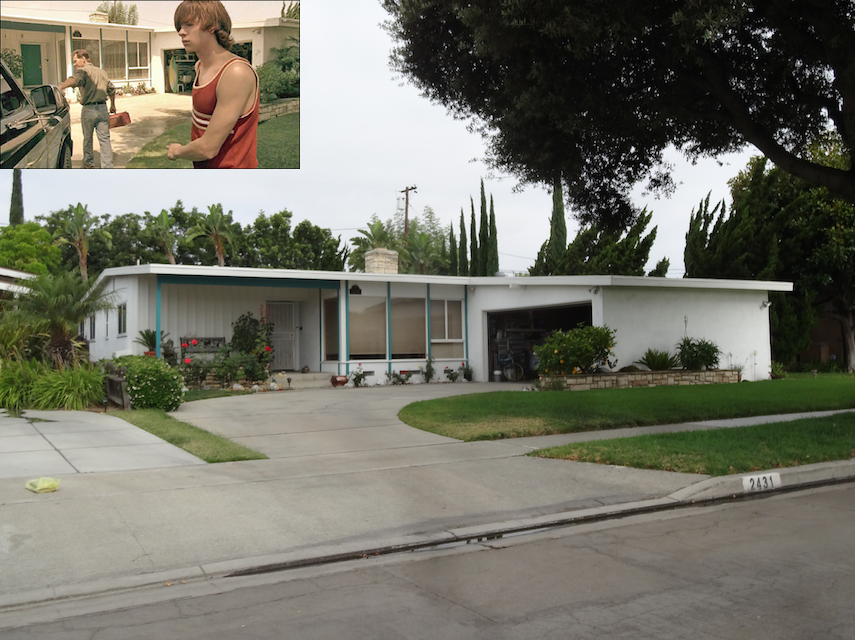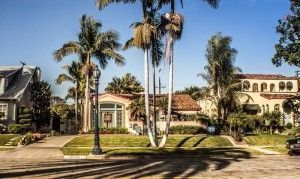 The popular Showtime TV show Dexter was filmed in multiple areas of Long Beach. The producers favored the city for how easy it was to use in comparison to Miami, where the character Dexter was portrayed as living. A good deal of the series was centered around a neighborhood just south of the 405 freeway. 2431 Chatwin Avenue is used as the filming location for Dexter's childhood home and several houses nearby for back story.
Additionally, Dexter and his wife Rita shared a home that was actually located in the Bluff Park neighborhood of Long Beach and other filming locations can be found in Shoreline Park, Naples Island, and various other spots around town. Curbed LA has an awesome map to use to pinpoint scene locations.
True Blood / Tenacious D – Alex's Bar on Anaheim St.
HBO watchers and vampire enthusiasts alike might recognize this old-school dive on Anaheim Street as the home of True Blood's "Fangtasia", the all-vampire club in Sookie's hometown where night-dwellers go. Truth is, Alex's Bar in the Zaferia district is still where the night dwellers go. Long Beach locals go to Alex's Bar for one of the best punk-rock venues in the city. This location was also used in the band Tenacious D's film Tenacious D: The Pick of Destiny. In the movie, Jack and Kyle get into a battle of the bands duel with the Devil himself. The bar is still pretty funky like the silverscreen shows, with a plush red interior and vampy light fixtures. If you plan to visit, remember that the entrance is in the back rather than the front.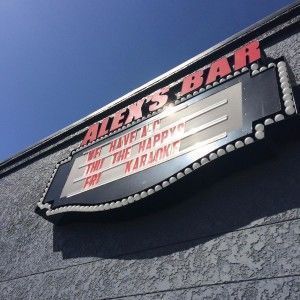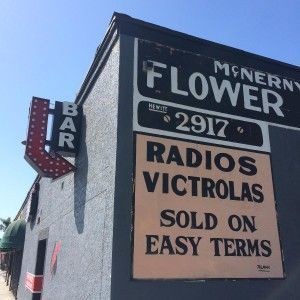 It's A Mad, Mad, Mad, Mad World – The Pike
Downtown Long Beach's The Pike has seen it's fair share of the silver screen, going back to films in the 1920s. The Pike was also home to several film studios of its own in it's early days. The Pike is included in shows like Abbott and Costello, Charlie's Angels, Starsky and Hutch, and Columbo. The backdrop in film may appear very different from The Pike you know from today.
The Pike was originally a large and popular amusement park for many years prior to the 70s. The large distinctive rides and attractions that would be easy to spot throughout its filming history. In It's A Mad Mad Mad Mad World, you can see the silhouette of the roller coaster that would later be included in the modern redesign. It's amazing to see how built up the area off of Pine Avenue has become since 1963.
Glee – Cabrillo High School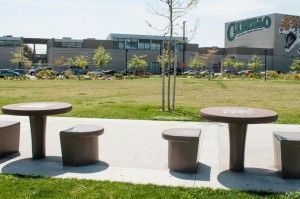 For those of the musical persuasion, the fictional William McKinley High School in Ohio is actually a high school in Long Beach. Cabrillo High School on the west side of the 710 freeway is home to several key filming locations for Glee. This includes the sports fields, cafeteria, and multiple halls and classrooms. (The auditorium featured on Glee is another high school in Los Angeles.)
Other films feature scenes at this location, including Dodgeball, Fast and the Furious: Tokyo Drift, and the TV series Bones.
American Sniper – Seal Beach Pier
This modern classic directed by Clint Eastwood features not one, but two filming locations in Long Beach's neighbor, Seal Beach. At first they portray the Seal Beach Pier as San Diego. The protagonist also meets his wife in O'Malley's On Main, a local pub that you can visit on Main Street.
The Jack Nicholson drama and comedy As Good As It Gets also uses the Seal Beach Pier. The late 1990s tv drama Sunset Beach filmed here as well.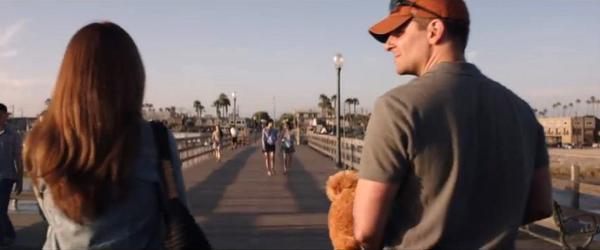 While this is just a small sampling of places in Long Beach and the surrounding areas, you can drive in almost any area of the city and find a film site.  Signal Hill, the Port of Los Angeles, Downtown, and the neighborhoods closest to it are often used for backdrops and one use scenes for television shows like CSI. The variety of homes and diversity of the local culture makes for a perfect chameleon city to film in. Watch TV shows and movies closely and you just may see your neighborhood show up. If you'd like to take your search further, we suggest checking out these websites for details on movies, shows, and episodes that have Long Beach in them: