It's a common occurrence when you live in Long Beach. You're watching tv or movie and you realize what's supposed to be Miami or San Diego or someplace entirely different is actually right down the street from you in Long Beach! It happens often because of Long Beach's close proximity to Los Angeles and the entertainment industry. This has led Long Beach to become one of Hollywood's most iconic backdrops. From the Virginia Country Club, to Zaferia, to Downtown and our beach, the LBC has been featured in many TV shows and films. Here are some of our favorites.
La La Land – 1728 East 3rd Street
In the Academy Award-winning movie La La Land, the protagonist Emma Stone lives in an apartment in Hollywood. However, that apartment is actually located in the Rose Towers condos in Long Beach. The gorgeous Spanish style building served as the backdrop in one of the dance scenes. Skip to 1:39 in the clip below to see the building.
In addition, The Blind Donkey, a popular bar in downtown Long Beach, served as a jazz club where Ryan Gosling sang.
Fun Fact: The Shannon Jones Team actually sold a condo at 1728 East 3rd Street in 2019. You can check that listing out HERE.
Glee – Cabrillo High School
Glee's fictional William McKinley High School in Ohio is actually a high school in Long Beach. Cabrillo High School on the west side of the 710 freeway is home to several key filming locations for Glee. This includes the sports fields, cafeteria, and multiple halls and classrooms. (The auditorium featured on Glee is another high school in Los Angeles.)
Other films feature scenes at this location, including Dodgeball, Fast and the Furious: Tokyo Drift, and the TV series Bones.
Ferris Bueller's Day Off – 4160 Country Club Drive
A classic from the 80s, Ferris Bueller's Day Off is a tale of teenagers playing hooky and having a lot of misadventures doing so. The iconic character Ferris allegedly spends his time in Chicago, but his film home is actually in the Rancho Los Cerritos neighborhood of Long Beach. This colonial-style home is one of a rare few for the Southern California market. The homeowners at the time lived in the home for the entire filming period, and remember the experience fondly.
"It was a lot of fun," Matthew Balkman, whose parents, Jim and Sonya, owned the iconic circled-driveway home, told GoodMorningAmerica.com. "My mom liked parties, so this was just a big party for her."
Balkman, now 53 and living in Seattle, says it took only 10 days to shoot the entire film's scenes at his house, but the experience, although short, left lasting memories.
American Pie – 4153 Cedar Drive
Down the street from Ferris Bueller is another iconic Colonial-style home at 4153 Cedar Drive. It was home to the protagonist Jim in American Pie. Surprisingly, almost all of American Pie was filmed in Southern California, despite professing to be based in Michigan. Other locations included Millikan High School, Long Beach Polytechnic High School, and other Long Beach Unified School District properties. The sequel to the film, American Pie 2, was also filmed all over Long Beach and Southern California.
While these are two of the most memorable properties, Los Cerritos and Virginia Country Club neighborhoods also include filming locations for indie-favorite Donnie Darko, the Silence of the Lambs prequel Red Dragon, and Not A Teen Movie. With its surprisingly East Coast style home in abundance, this is a one-of-a-kind area for Long Beach. This continues to attract buyers and filmmakers alike with the illusion of an entirely different part of the United States.
Mr. Iglesias – Takes Place in Long Beach
This one is cheating a little because it was actually filmed at CBS Studios in Los Angeles. However, Mr. Iglesias takes place at Woodrow Wilson High School in Long Beach, where comedian Gabriel "Fluffy" Iglesias attended. In Season 2, Roxanne's, one of Fluffy's favorite bars in California Heights is also introduced. However, it's filmed on a set that was recreated to look like the bar.
You may also remember Wilson High School as the school where the true story of the Freedom Writers took place. It was later turned into a movie called Freedom Writers, starring Hillary Swank.
Dexter – Multiple Locations
The popular Showtime TV show Dexter was filmed in multiple areas of Long Beach. The producers favored the city for how easy it was to use in comparison to Miami, where the character Dexter was portrayed as living. A good deal of the series was centered around a neighborhood just south of the 405 freeway. 2431 Chatwin Avenue is used as the filming location for Dexter's childhood home and several houses nearby for the back story.
Additionally, Dexter and his wife Rita shared a home that was located in the Bluff Park neighborhood of Long Beach. Other filming locations can be found in Shoreline Park, Naples Island, and various other spots around town. Curbed LA has an awesome map to use to pinpoint scene locations.

It's A Mad, Mad, Mad, Mad World – The Pike
Downtown Long Beach's The Pike has been featured in films and TV going back to the 1920s. In its early days, The Pike was also home to several film studios. It's included in shows like Abbott and Costello, Charlie's Angels, Starsky and Hutch, and Columbo.
The Pike was originally a large and popular amusement park for many years prior to the 70s. The large distinctive rides and attractions that would be easy to spot throughout its filming history. In It's A Mad Mad Mad Mad World, you can see the silhouette of the roller coaster that would later be included in the modern redesign.
True Blood / Tenacious D – Alex's Bar on Anaheim St.
HBO watchers and vampire enthusiasts alike might recognize this old-school dive on Anaheim Street. It served as the home of True Blood's "Fangtasia", the all-vampire club in Sookie's hometown where night-dwellers go. Long Beach locals go to Alex's Bar for one of the best punk-rock venues in the city.
This location was also used in the band Tenacious D's film Tenacious D: The Pick of Destiny. In the movie, Jack and Kyle get into a battle of the bands duel with the Devil himself. The bar is still pretty funky like the silver screen shows, with a plush red interior and vampy light fixtures. If you plan to visit, remember that the entrance is in the back rather than the front.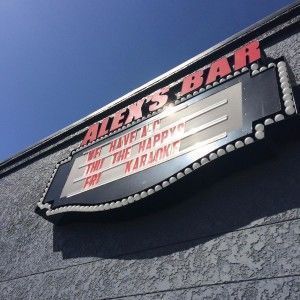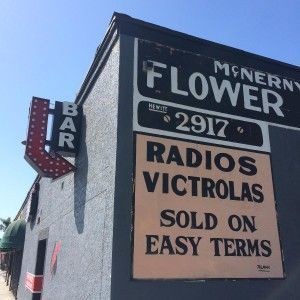 More Long Beach Films
This list is just a small sampling of filming locations in Long Beach. Watch TV shows and movies closely and you just may see your neighborhood show up. If you'd like to take your search further, we suggest checking out these websites for details on movies, shows, and episodes that have Long Beach in them:
Ready to Move?
Are you convinced yet that Long Beach is your next stop before stardom? If so, The Shannon Jones Team would love to help you make a move. As Long Beach local experts, we pride ourselves in not only knowing about Long Beach filming locations, but its neighborhoods, people, restaurants, and everything in between.