Summer is finally just around the corner! With the new season comes new opportunities and possibly, even achieving your goal of homeownership! While the financial benefits of buying a home, compared to renting one, are always up for debate. However, one thing isn't. Homeownership allows the ability to build wealth in a way renting never will. When you take into account that home prices are expected to continue rising, this becomes even more true. To make the benefits of homeownership perfectly clear, we've gathered 188,201 reasons to buy a home this summer.
Where Are Home Prices Headed?
According to the latest Home Price Expectation Survey, home appreciation will increase as follows.
2021: 6%
2022: 4.5%
2023: 4%
2024: 3.6%
2025: 3.5%
From March 2020 to March 2021, the median home price in Long Beach has gone up 14.4%! Some zip codes have gone up even more. In fact, in the 90804 zip code, home prices have gone up an incredible 43.6% in the last year. People who bought homes last year are enjoying significantly increased home equity. While you may feel like you've missed the boat already, this is not the case. You still have an opportunity to build equity, starting with buying a home this summer.
How Much Equity Could I Build Up in Long Beach?
Using the annual projections, the graph below shows the equity build-up a purchaser could earn using an $800,000 home as an example. As of March 2021, $800,000 was the approximate median price of a home in Long Beach.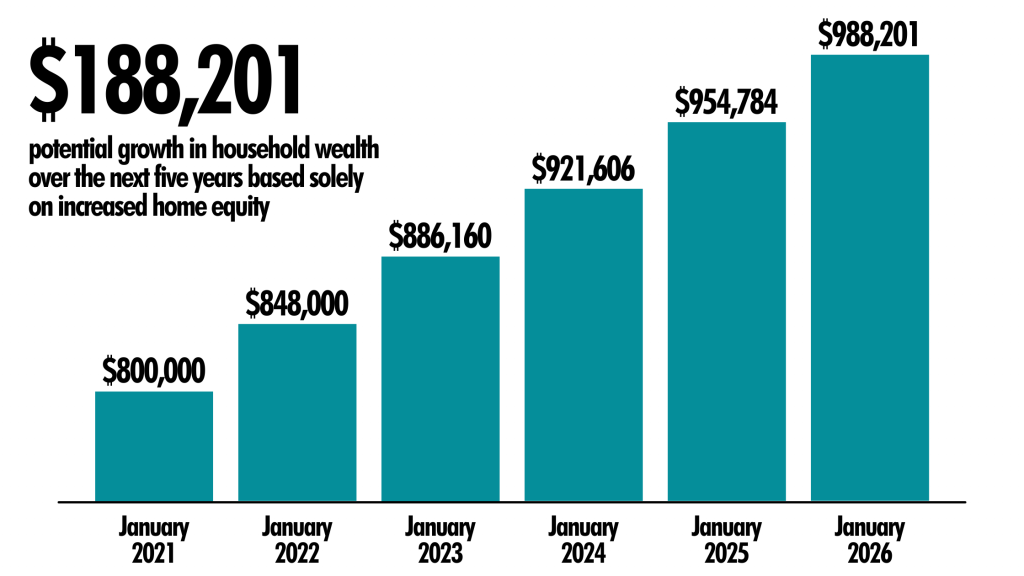 $188,201 is a lot of money! Divided over the course of 60 months, that equals approximately $3,136 a month. When weighing the benefits between homeownership and renting, this is a figure you should keep in mind. If you can purchase a home for a similar monthly price, then it makes more sense to invest in a home than it does to rent.
188,201 Reasons to Buy a Home This Summer
Homeowners are going to make a substantial amount of money in home equity over the next five years. If you're ready to buy a home this summer, let's connect! We want you to be able to enjoy all the benefits of homeownership as soon as possible. We'd be happy to help you create a game plan and if you get started right away, we may even be able to have you in a home by summer! To get you started, we've included some home buying resources below. When you're ready, there is also a contact form below that. We look forward to getting you on your way towards building your equity!
Home Buying Resources