Spring is the traditional time to put a home on the market. However, the real estate market has been anything but traditional ever since COVID hit last year! So this summer is still a great time to sell! Inventory is still extremely low, and there are still lots of motivated buyers out there. If you're ready to jump into the market, here's how you can sell your home this summer.
Curb Appeal
The first impression of your house is everything. Make sure it is inviting and the yard is well manicured. Want a quick fix? You can add flowers and shrubs to create a colorful palate that's pleasing to the eye.
CLICK HERE for more curb appeal tips.
Inside the House
If you want to sell your home this summer, these are some of the most important tasks. Declutter your house, deep clean, and then clean again. Be sure to remove all personal items, and organize closets, drawers, and cabinets. If your house looks empty after all your organizing, or you've already moved out, talk to your agent about staging. Staging can be one of the best ways to help potential buyers envision themselves in your home.
Additionally, invest in fans and turn them on during the open house. This will help circulate air on hot days. If you have air conditioning use it. After more than a year without open houses, they are finally back in Long Beach! So make sure your open house is an inviting one.
Backyard Living Room
Long Beach has great weather all year round, but summer is especially great. When selling your home this summer, highlight your backyard with fresh landscaping or great outdoor furniture. If it is too expensive to buy all new furniture, then buy accessories: pillows, outdoor lighting, and rugs. This will make the yard look like another room and the illusion of additional living space.
If you have a pool, then highlight this huge asset. Make the backyard look like a resort. Invest in chaise lounge chairs, umbrellas, and a café table for poolside dining.
Learn more about staging your outdoor space HERE!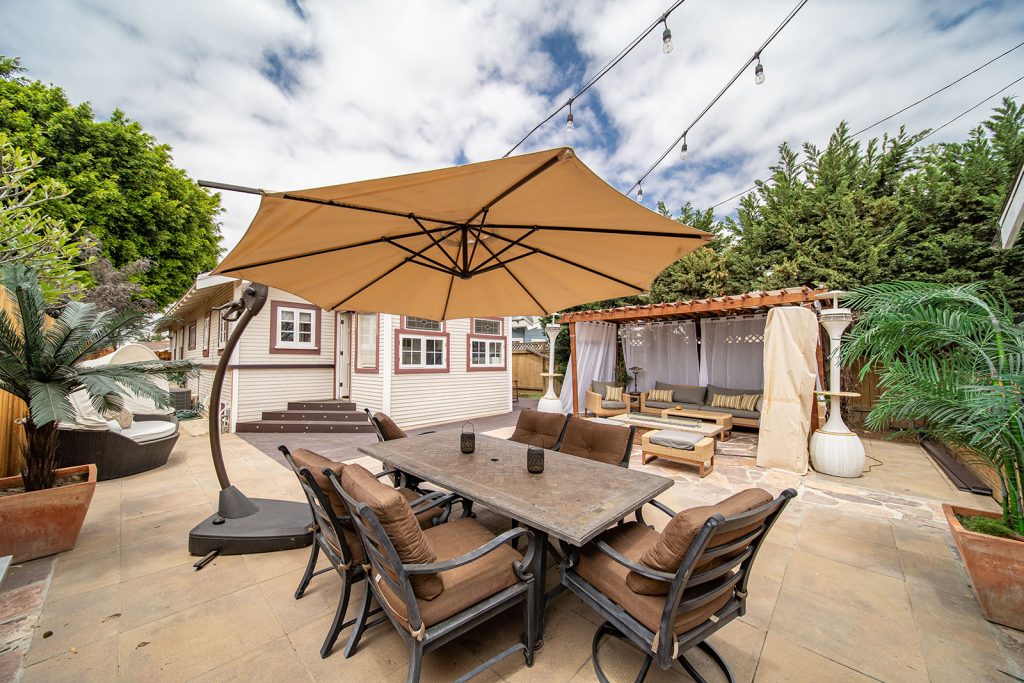 Marketing
Lastly, make sure your agent never stops promoting your house. It's your job to keep your home clean throughout the showing process and to be as accommodating to showings as you can be. It's your agent's job to market your home everywhere they can. This includes social media marketing, getting professional photos and videos taken of your home, open houses, etc.
Before choosing an agent to sell your home this summer, ask them about their marketing strategy. If they don't have one, or it doesn't include all of the above, this is a huge red flag. Just because we're in a seller's market right now, doesn't mean all listings sell, and it certainly doesn't mean they all sell for top dollar. Selling your home for top dollar still requires a carefully executed strategy. So don't be afraid to shop around and interview multiple agents until you find the one you are the most comfortable with and who has the best strategy in your opinion.
Finally, talk to your chosen agent about taking advantage of the longer days by hosting a twilight open house. The lighting at this time of day is magical and will showcase your house beautifully.
Curious how we get properties sold at The Shannon Jones Team? Watch the video below for a quick look at our real estate marketing.
Sell Your Home This Summer
We are already in June so now is the time to talk to choose a real estate agent if you'd like to sell your home this summer. If you want to find out what your home is worth or find out what homes have sold for recently in your neighborhood, we'd be happy to provide you with a free market evaluation. You can fill out the form below or CLICK HERE for a quick, automated valuation.