Don't want to leave your furry friend at home while exploring Long Beach? Luckily there are a lot of dog-friendly places in (and around) Long Beach. Here's a roundup of some of the best places for you and your pup.
Long Beach Dog Parks
Long Beach is home to a number of dog parks so you and your dog can enjoy some fresh air. Of course, Long Beach may be best known for Rosie's Dog Beach, the only off-leash dog beach in LA county. You can't get more dog-friendly than that! To learn more about Long Beach's dog parks, please visit our dog park blog.
Want to see footage of Long Beach dog parks and other dog-friendly spots in Long Beach? Watch the video below!
Dog-Friendly Restaurants
You don't have to be in the great outdoors to enjoy some time with your dog. Long Beach is also home to a number of dog-friendly restaurants. Here are just a few.
The Attic
3441 East Broadway, Long Beach CA 
There are a number of restaurants in Long Beach with dog-friendly patios, but one of our favorites is The Attic in Belmont Heights. Situated in a quaint California bungalow, the Attic offers Southern/American fare. However, it may be best known for its mac and cheetos. It has a full bar and is open for lunch and dinner. Weekend brunch is a happening time at the attic and the large patio is a great spot to sip a bloody mary. They even have a pet menu!
The Pie Bar
450 Pine Avenue, Long Beach, CA 90802
The Pie Bar is known for its delicious human foods including whole pies, slices, and their adorable cutie pies. However, it's also dog-friendly as well! They serve "pet pie bites" which are all-natural pumpkin treats baked in their pie crust. Your dog is sure to love it!
Rasselbock Kitchen & Beer Garden
4020 Atlantic Avenue, Long Beach, CA 90803
Rasselbock is a German restaurant located in Bixby Knolls. They specialize in German and pub food and have a variety of German and Belgian beers. Your doggie will like this spot because of the large patio so they can sit with you while you eat.
Belmont Shore
5006 E. 2nd Street, Long Beach 90803
This cute strip of shops is very pet-friendly. There are two pet boutiques along the stretch and some businesses offer water bowls for your thirsty pooch. Additionally, many of the restaurants with patios along Second Street are pet-friendly.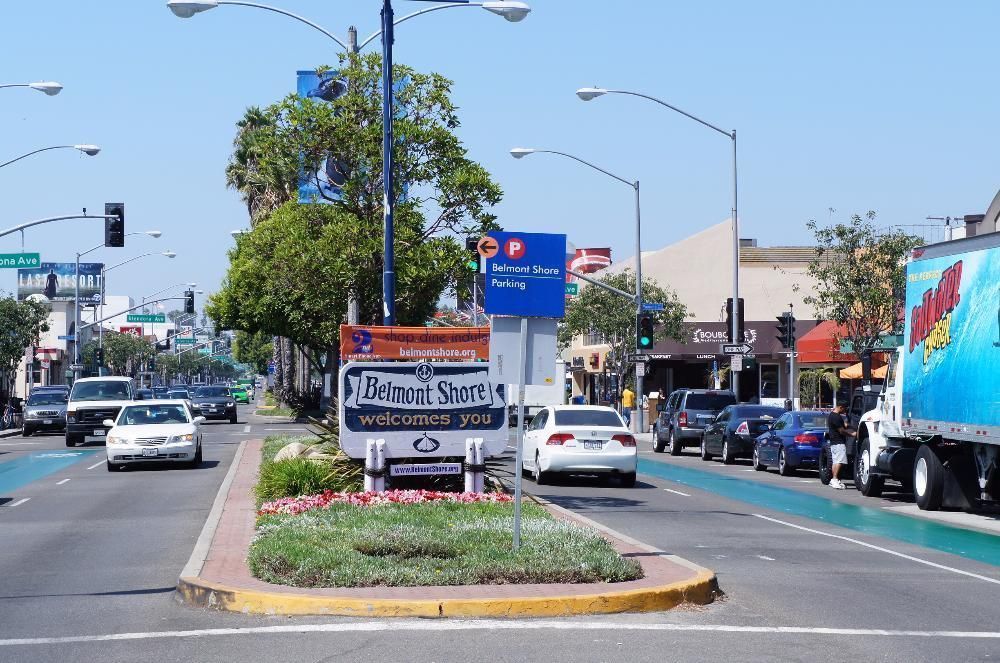 Businesses Just for Pets
Belmont Launder Pet
3429 E Broadway, Long Beach, CA 90803
Right next door to The Attic, you can stop for some pet food or treats at Belmont Launder Pet. Voted "Best Pet Groomer" in Long Beach by the readers of the Beachcomber Newspaper, this grooming salon also has locations in Bixby Knolls, and Seal Beach.
Wags to Whiskers
5505 E. Stearns Street, Long Beach, CA 90815
Wags to Whiskers is a full-service grooming location in the Los Altos Shopping Center. If you're not a dog person, they'll even groom your cat!

Soggy Dog Pet Grooming
2001 E. 7th Street, Long Beach, CA 90804
Soggy Dog offers grooming and baths for dogs. Plus, they are so dog-friendly, they even offer special treatments like massages and holistic lavender finishing retreatments. They also offer a very affordable self-wash option!
VCA Kennel Club Resort and Spa
3301 Fujita Street, Torrance, CA 90505
This place offers various swimming packages, such as hydrotherapy, Hydrosurge massage, and flea baths. In other words, it's a spa for your dog!
Looking For a home that suits you AND your four-legged companion?
We are pet-friendly Realtors serving Long Beach and surrounding communities and we can help. Fill out the form below and we'd be happy to answer your questions. Furthermore, we have offered some pet-friendly moving advice below!