Southern California home prices went up in July across Southern California as the already hot housing market saw continued high demand and persistently low inventory.
According to a report from CoreLogic, the six-county Southern California area's median price climbed 7.7% from a year earlier, hitting $501,000. Despite the fact that the market rebound is now in its sixth year, the increase to the region's median price last month was the greatest jump in nearly 2 1/2 years.
In Los Angeles County, the median price in July was $575,000, up 8.1% from the previous July. In Orange County, the median price rose 7.9% to $690,000.
Meanwhile, across the region sales dipped 2.3%, in part because of the extremely low inventory.
Economists say the primary driver of the state's low inventory is a loack of home building relative to population and job growth, a dynamic that has been ongoing for decades. Developers in Riverside and San Bernadino counties are busy constructing homes, but in Los Angeles and Orange counties, many communites have nowhere left to build.
As a result, Riverside and San Bernardino are the only counties in the region that saw an increase in sales from a year earlier.
Locally, in Long Beach the median home price hit $610,000 in July, up 6.1% from a year earlier. Meanwhile, closed sales were down by 13.7% and the inventory of homes for sale was down by 17.1%. The rising prices and imbalance of supply and demand make this an ideal seller's market.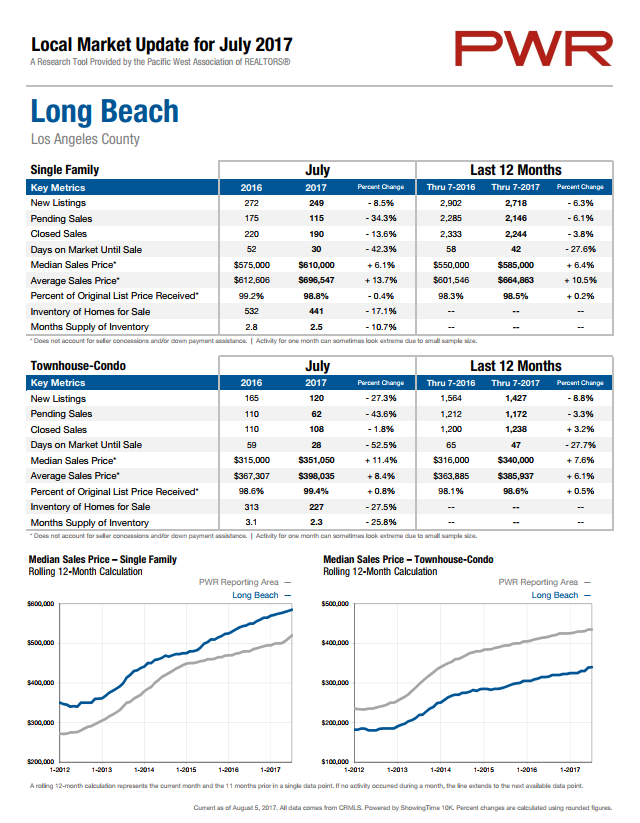 In Lakewood, July's median home price was $570,000, up 10.8% from the previous year and the inventory of homes for sale was down 31.2%.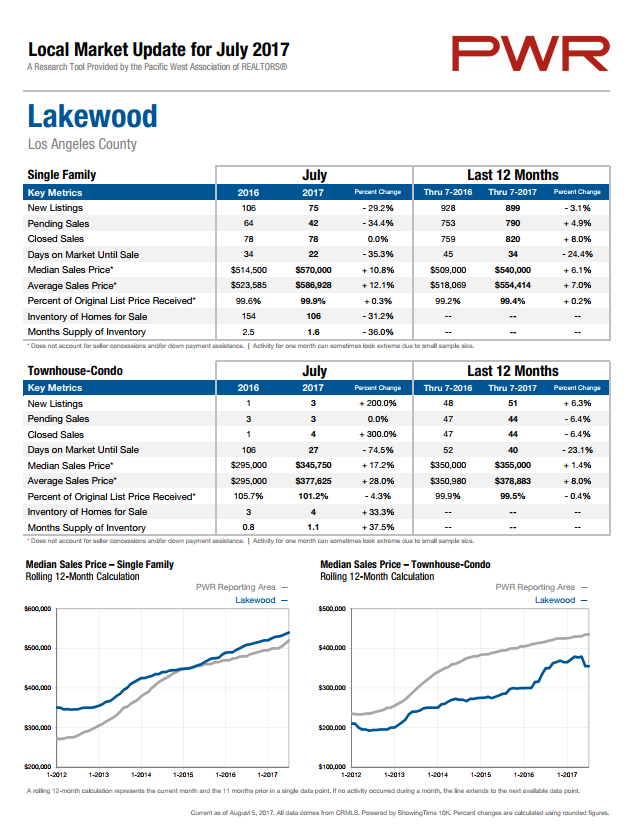 Some zip codes and neighborhoods saw greater appreciation than others, and while across the board inventory is extremely tight, in some neighborhoods, inventory has begun to build up a bit compared to earlier in the summer.
If you'd like to know more about the market in your zip code or neighborhood, or if you'd like a free market evaluation of your home, simply fill out the form below and we'll be happy to get you that information. There's no cost and no obligation.
Source: California Association of Realtors, CoreLogic, Los Angeles Times